HOSPITAL & HEALTH CENTERS:
The public health service of Spain and her islands is often complimented upon, indeed in a moment of poor health or urgent need, the care is found to be extremely efficient and clean. The main state hospital of Menorca is the "Mateo Orfila" hospital situated in Mahon, although each town has its own GP / medical centres (ambulatorios), Check with the NHS regarding the reciprocal paperwork needed for travelling to Spain.
Private medical care is well catered for during the summer months in the resorts and throughout the year in their clinics situated in Mao and Ciutadella. These clinics are affiliated with insurance companies and treatments are payable.
The Chemists "Farmacias" are found in virtually every beach resort (summer) and town (throughout the year). For emergencies, there is always a 24h emergency pharmacist available on duty in each town. An emergency 24h rota is displayed on the chemist doors, in the local press, or failing that most taxi drivers know.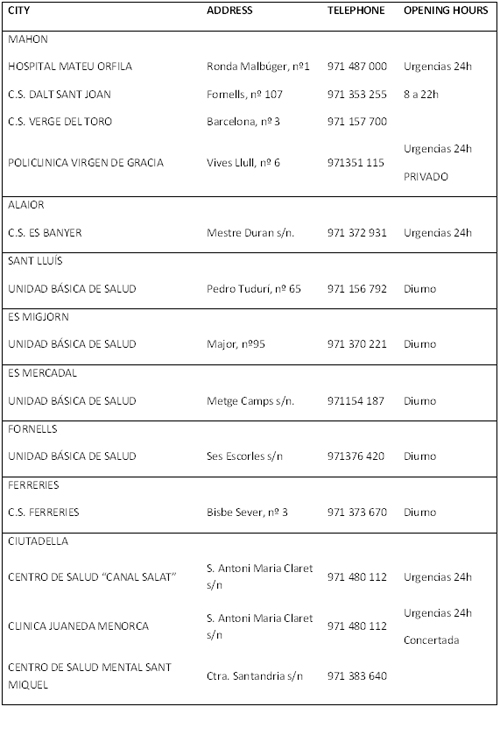 Medical Emergency phone number: 061
SAFETY:
Emergency: 112
Police: 062
Police / Fire: 092
National Police: 091.
Police station Mahon: 971 363 712.
Police station Ciutadella: +34 971 363 066
Fire Station:
Mahon: +34 971 363 961/971 351 011.
Ciutadella: +34 971 380 809
Local Police:
Police station Mahon: +34 971 36 37 12/36 37 16
Police station Ciutadella: +34 971 38 07 87
Police station Alaior: +34 971 371 320
Police station Es Mercadal: +34 971 375 251
Police station Ferreries: +34 971 15 51 77/606 37 23 55
Police station Es Mercadal: +34 971 370 505
Police station Es Castell: +34 971 362 747
Police station Sant Lluís: +34 971 151 717