Taxis are plentiful and each town, the airport and the ferry terminals have taxi stands. The taxi companies also offer a 24h central contact number. If "timetables" don't worry you, then the island has a very good public bus system; they are generally comfortable buses with air conditioning. The buses run regularly throughout the year connecting with the islands towns, airport and ports; and during the summer months a more frequent service is provided to link with the coastal resorts.
The bus company, "Transportes Menorca"  operates a Mao (Mahon) to Ciutadella (Ciutadela) run, that also links with the towns of Alaior,Es Mercadal and Ferreries. There are also other routes between Maó (Mahon) and Es Castell or Sant Lluis or Sant Climent and Cala en Porter.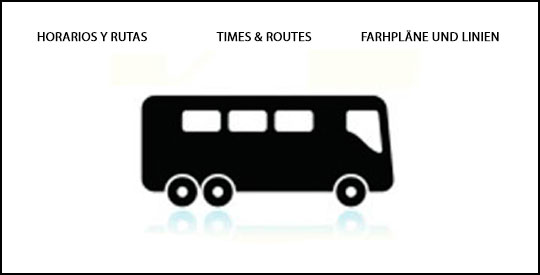 Between April and October the company operates a regular line to the southern coastal areas of Cala Santa Galdana, Santo Tomás, Son Bou, Canutells, Binibeca, Punta Prima, S'Algar and Cala Alcalfar.The Company "Torres"operates in the Ciutadella area, linking the city centre with the local beach resorts of: Cala en Blanes, Calaen Forcat, Los Delfines, Sa Caleta, Santandría, Cala Blanca, Cala en Bosc, Son Xoriguer and Cala Morell.
"Autos Fornells" runs the northern routes' linking Maó with the fishing village of Fornells and providing a route in the summer to the northern beach areas, such as Es Grau, S'Arenal d'en Castell, Son Parc and Playas de Fornells, as well as a daily connexion between Es Mercadal and Fornells.