Eating
Amongst the recipes we will taste at the exquisite restaurants around the island, there is a concentrated mixture of history and civilizations who have improved the local cuisine in Minorca with the pass of time. This richness is also made relevant in the traditional manufacture of the island's typical products.
Menorca is at the moment the focus of attention in the world of gastronomy. The island
is becoming known as a foodie destination, both for its zero-kilometre seasonal produce, and for the number of gourmet chefs there now are on the island. Several food events are held every year, promoting a farm to fork strategy for local produce. Good food has always been appreciated here, even before Michelin stars were heard of on the island and recipes from bygone days have been reclaimed, upholding Menorca's gastronomic heritage.
2022 is the year when the island's cuisine will come into its own, when the island is declared European Region of Gastronomy. While keeping in view its culinary heritage, Menorca is taking its place at the forefront of avant-garde cuisine.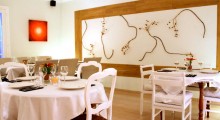 Selection of restaurants and gastronomic sites like wineyards, cocktail bars, etc. .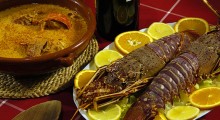 Menorcan gastronomy springs from the contributions of various peoples and cultures that have developed throughout the....